1) Welcome to this #accredited #tweetorial on #cardiovascular disorders in Autosomal Dominant Polycystic Kidney Disease. #ADPKD is widely recognized in assoc w/risk of #CKD, but has protean #cardiovascular effects as well. Expert author @dguerrot of @CHURouen 🇫🇷 leads us!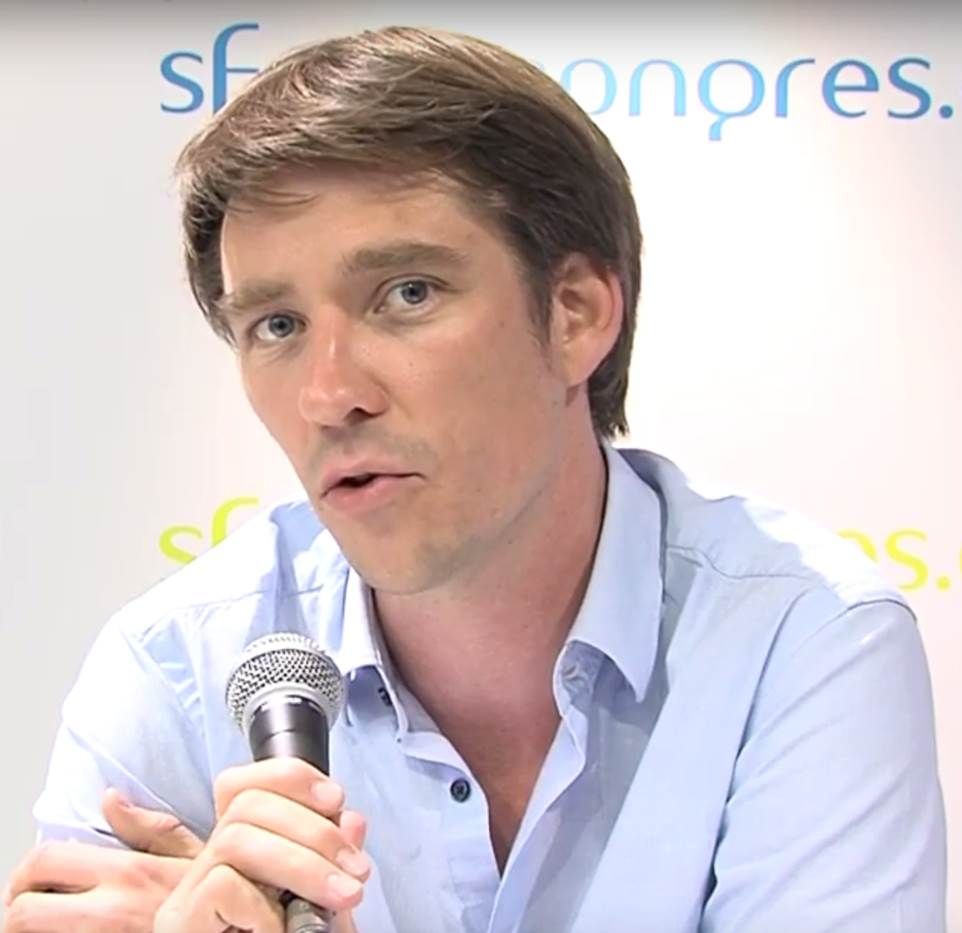 2) This program is supported by an educational grant from Otsuka Pharmaceutical & is intended for healthcare providers. #Physicians #Physicianassociates #nurses #nursepractioners #pharmacists 🇺🇸🇨🇦🇪🇺🇬🇧 earn 0.5hr CE/#CME credit. Faculty disclosures at http://www.ckd-ce.com/disclosures.
3) Autosomal dominant polycystic kidney disease (#ADPKD) is the most frequent hereditary cause of #kidneydisease, present in 1/1000 to 1/2500 individuals. ADPKD predominantly affects the kidneys, with the progressive onset and growth of numerous cysts.
🔓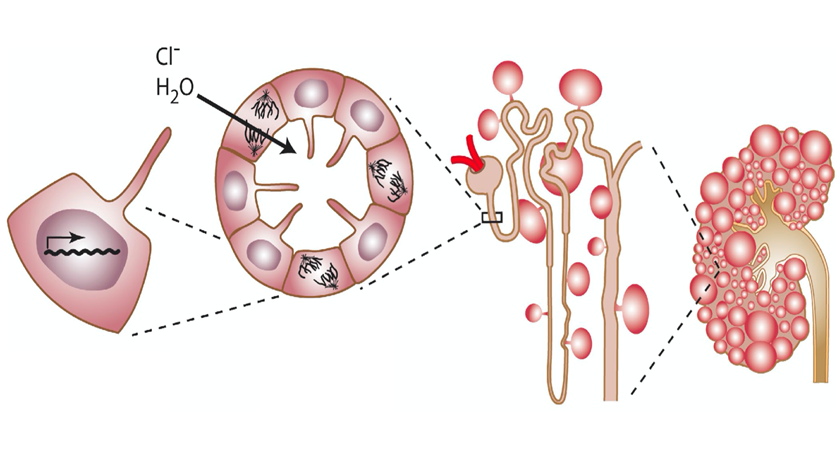 4) The cysts progressively reduce the number of functional nephrons which leads to chronic kidney disease (#CKD). In western countries ADPKD accounts for as much as 8 to 10% of the causes of end-stage kidney disease #ESKD #ESRD.
🔓https://www.era-online.org/en/registry/publications/annual-reports/
🔓
5) ADPKD is also responsible for a large variety of extra-renal manifestations, particularly involving the liver, the digestive tract and the cardiovascular system, as described in this Table from 🔓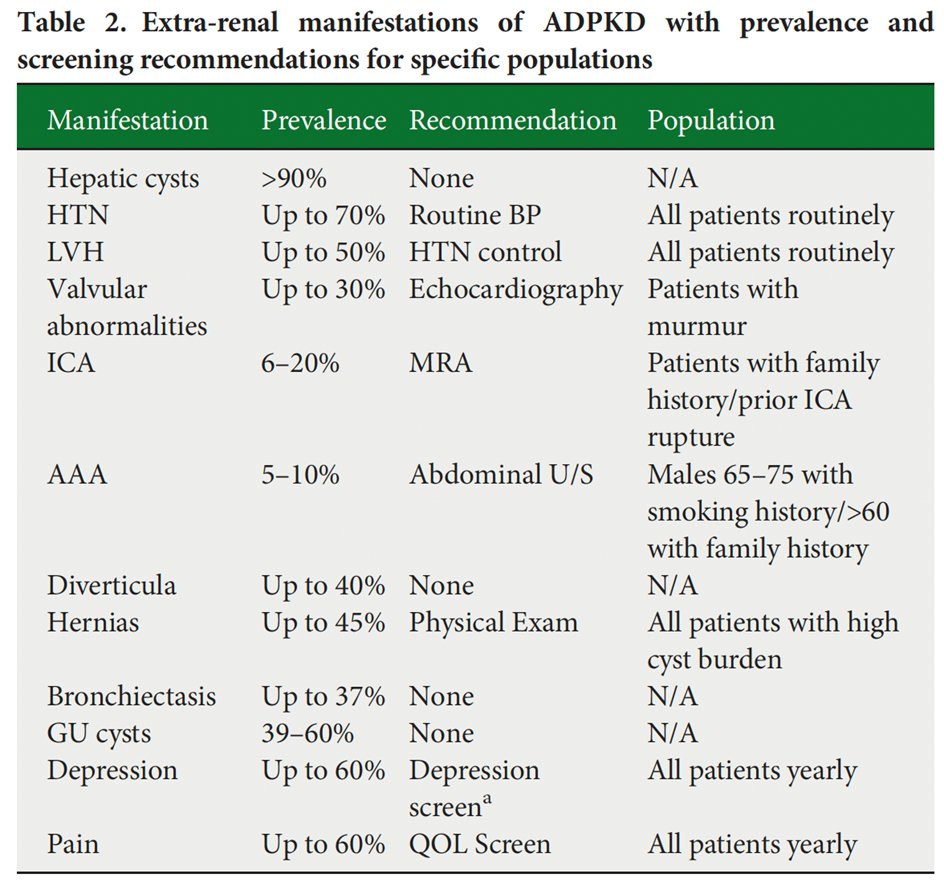 6) In approximately 80% of cases the genetic variations responsible for ADPKD are located in PKD1, encoding polycystin 1. Other genes less frequently involved in ADPKD are PKD2 (encoding polycystin 2), GANAB, DNAJB11 and, recently identified, IFT140.

7) In kidney epithelial cells, polycystins 1 and 2 constitute a complex which locates at the cell membrane, predominantly in the primary cilium, where it regulates Ca2+ influx and cellular signaling, and is thought to contribute to the cellular adaptation to urine flow.
8) Importantly, #polycystins are found in most cells of the vasculature and heart. Increasing evidence suggests that the presence of abnormal polycystins at the vascular level is one of the main factors in #CV manifestations in ADPKD.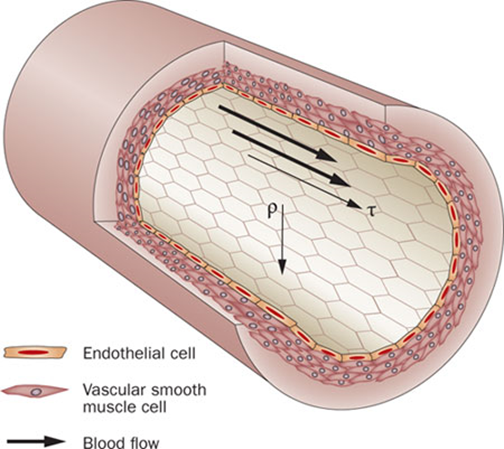 9) The polycystin complex is present in vascular endothelial cells, where it plays a central role in the mechanotransduction of blood flow stimuli. In particular, polycystins regulate release of nitric oxide (NO), a potent vasodilator, in response to ⬆️shear stress (ibid).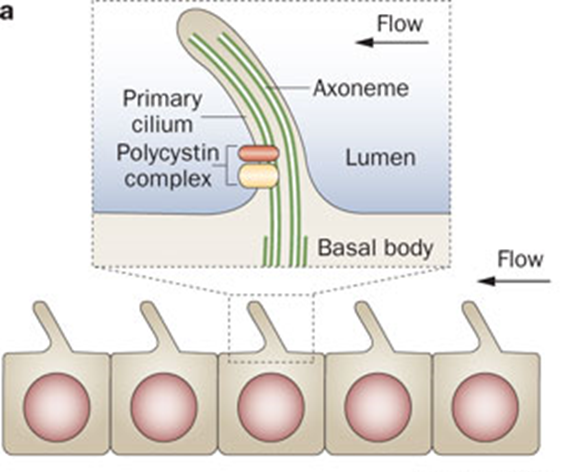 10) Now a knowledge ✔️& an important question. Which of these diseases is the leading cause of premature death in patients with #ADPKD ? Mark your answer before scrolling ⬇️!
11) Did you mark C ? As shown in this epidemiological report from the 🇪🇺, although significant progress has been achieved over years, #cardiovascular disease remains the leading cause of premature death in people with ADPKD.
🔓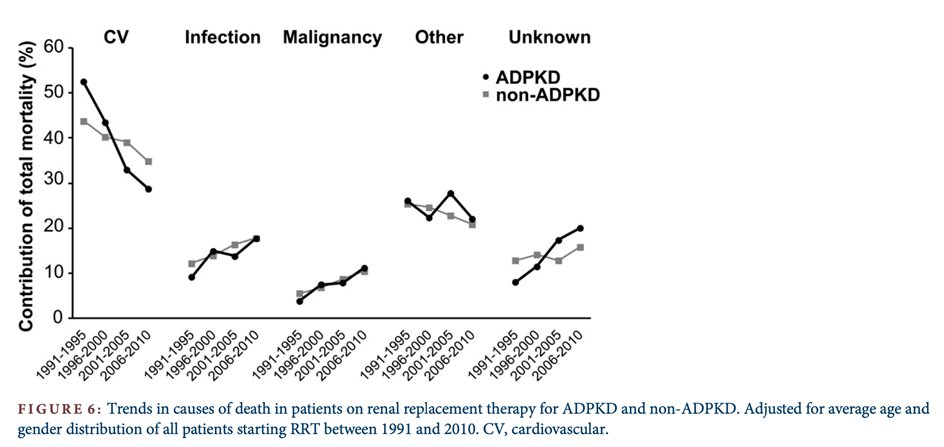 12) In patients with ADPKD #hypertension is associated with progression to #ESKD and, as is the case in the general population, with #cardiovascular morbidity and mortality. 🔓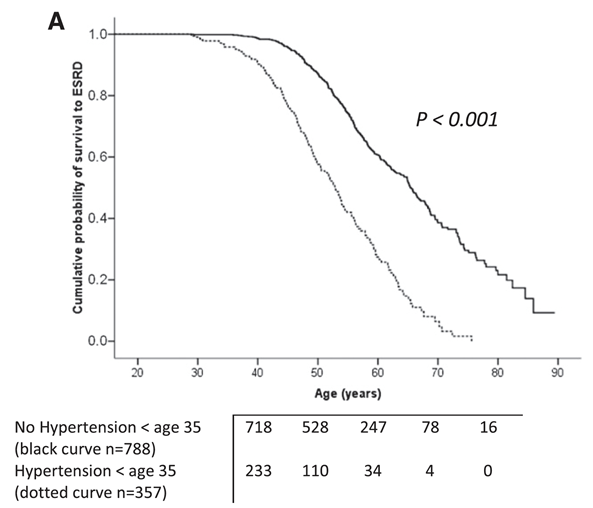 13) Now let's consider you are in charge of a 12-year-old child who has ADPKD. How would you estimate the probability he/she has abnormal blood pressure values on ambulatory BP measurement ? Answer before 👀down!
14) As illustrated by this study and others, the prevalence of hypertension in children with ADPKD and normal kidney function is around 30% (D). This highlights the importance of BP monitoring in children of families with ADPKD.
🔓
15) The high incidence of cardiovascular complications in ADPKD is in part secondary to the early-onset of #hypertension. In general, hypertension is diagnosed at a mean age of 30 years in patients with #ADPKD.
🔓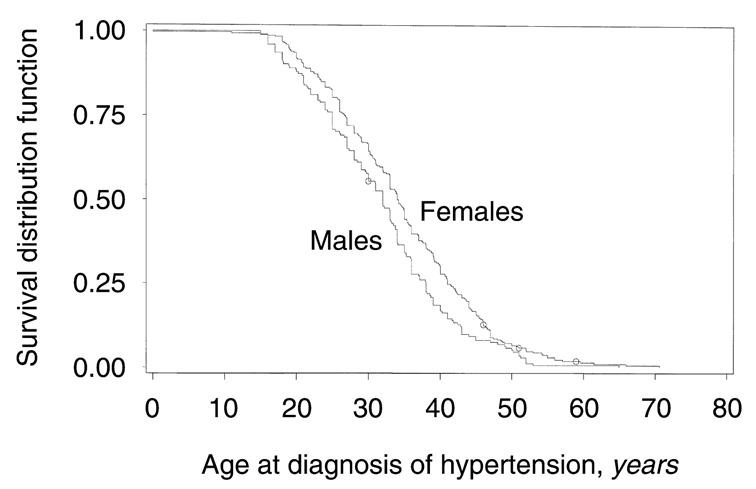 16) In ADPKD hypertension typically occurs prior to loss of kidney function. This is no surprise, since other factors than decreased #GFR participate to increase BP in ADPKD.  
Which one of these would you consider as a major explanation to the early hypertension in ADPKD ?
17) Mark your answer and return TOMORROW for more education on the #cardiovascular manifestations of #ADPKD! Nods to @nephondemand @Elektra @mariehogan_md @HerrmannMd @edgarvlermamd @ASPNeph #nephtwitter #cardiotwitter #medtwitter #FOAMed @NephUCommunity @MedTweetorials
18) Welcome back! You are learning about the extrarenal manifestations of #ADPKD, the most frequent hereditary cause of #kidneydisease. Our expert faculty is @dguerrot and you are earning FREE CE/#CME!
Hello to @MuellerRom @NatRevNeph @goKDIGO @MattLanktree @iamnephrologist
19) Yesterday's knowledge ✔️? Did you answer A? As cysts enlarge they compress kidney vasculature, reduce blood flow locally, and activate the renin angiotensin aldosterone system (#RAAS) and the renal sympathetic nervous system.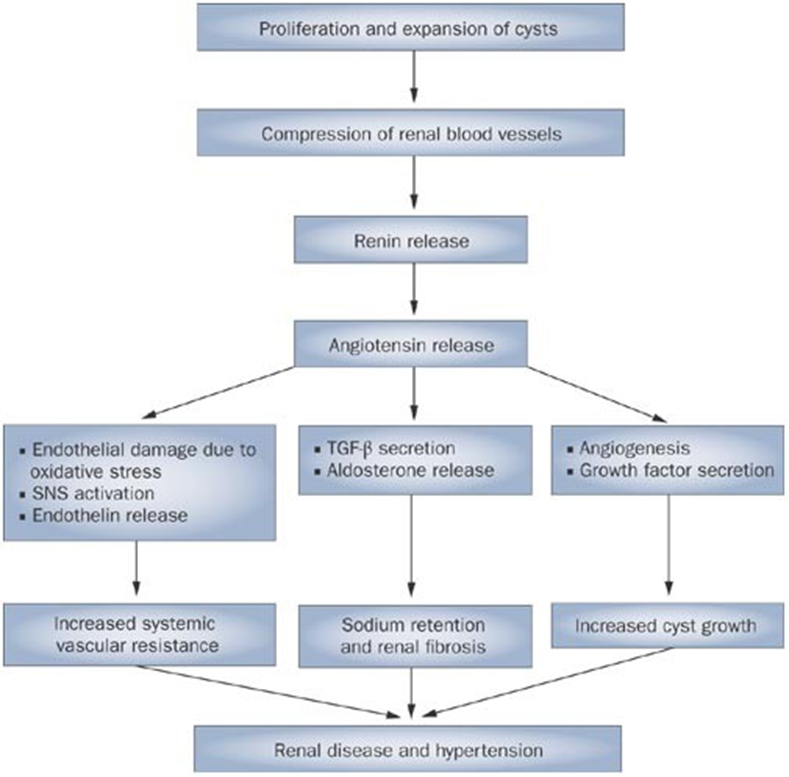 20) Immunohistologic and clinical studies support a role of #RAAS in the pathogenesis of #hypertension in #ADPKD.
🔓https://www.kidney-international.org/article/S0085-2538(15)34288-5/pdf
🔓
21) In ADPKD an early vascular dysfunction precedes both hypertension and CKD. Endothelial cells with altered polycystin complex release less NO. This increases the vasomotor tone, as demonstrated by altered flow-mediated dilatation of conductance arteries.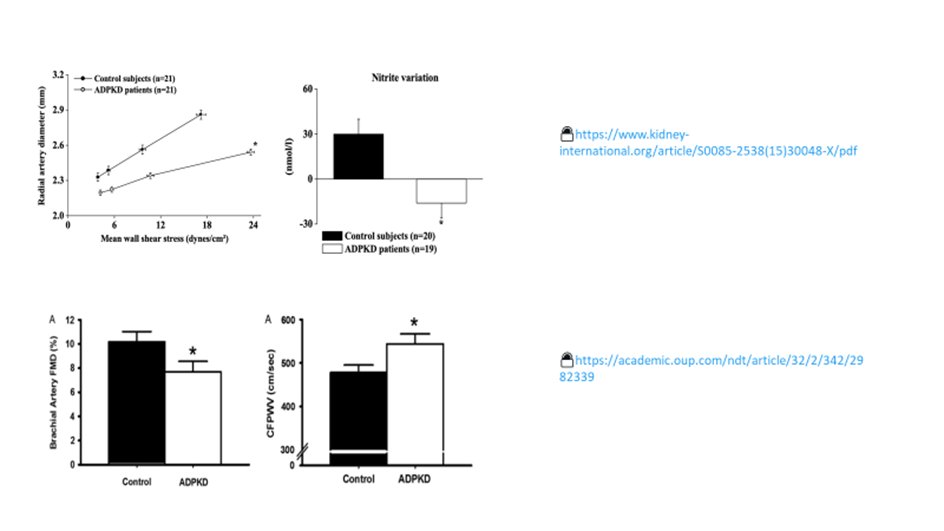 22) In addition, this study has shown that polycystin dosage in vascular smooth muscle cells regulates pressure sensing in arteries
🔓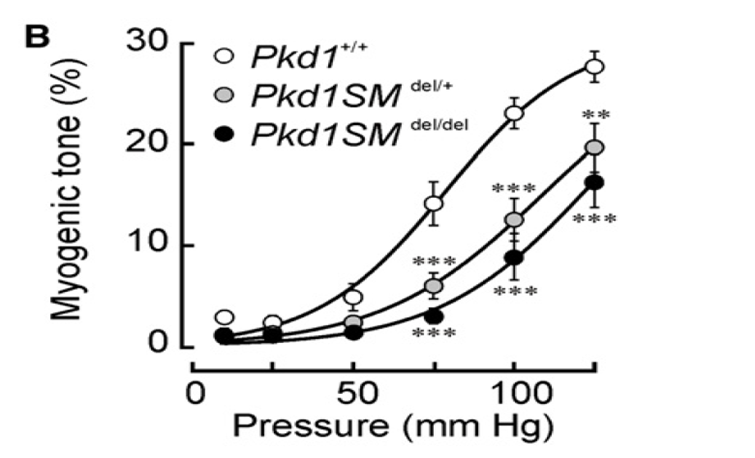 23) In most patients with #ADPKD, #hypertension is grade 1 or 2, and typically requires only 1 or 2 antihypertensive agents in addition to lifestyle measures for adequate blood pressure control.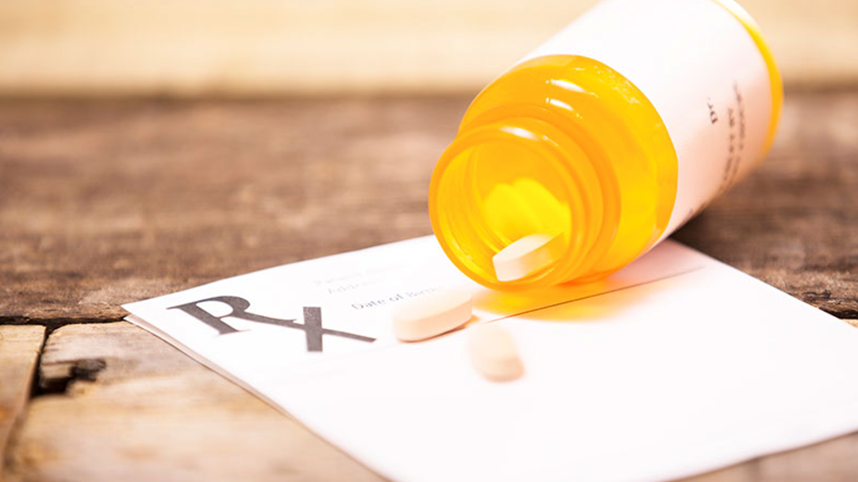 24) In adults, as is the case in non-ADPKD hypertensive patients, home BP monitoring is advised and results in better adherence to treatment.
🔓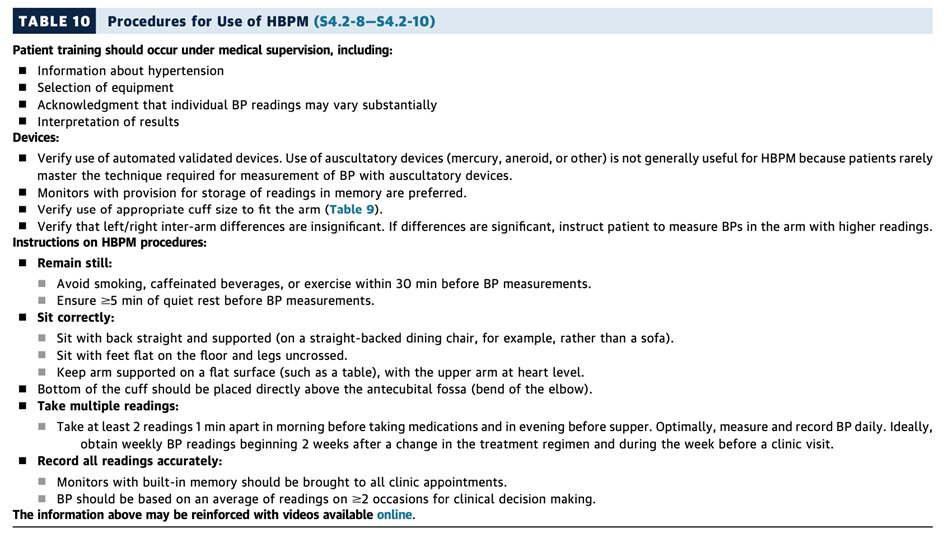 25) Share educational material with your patients ! 🔓
26) @goKDIGO 2021 guideline on the management of blood pressure in #CKD suggests benefits in autosomal dominant polycystic kidney disease may be greater with a SBP of 95–110 mm Hg than with 120–130 mm Hg, based on the results of HALT-PKD trials.
🔓
27) The HALT-A RCT compared standard BP targets (120/70 to 130/80 mm Hg) to low BP targets (95/60 to 110/75 mm Hg) in ADPKD pts with eGFR > 60. Primary outcome was annual percentage change in the total kidney volume, a surrogate for CKD progression.
🔓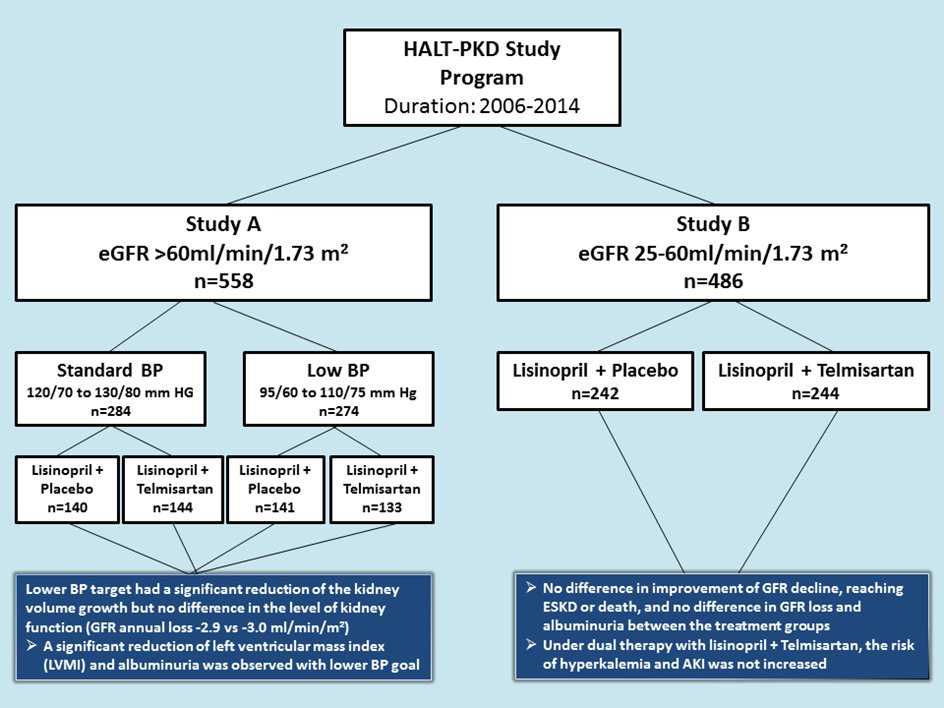 28) In addition, both HALT-A (eGFR > 60) and HALT-B (eGFR 25-60) trials assigned patients to either an #ACE inhibitor (lisinopril) plus an #ARB (telmisartan) or lisinopril plus placebo.
🔓https://www.nejm.org/doi/full/10.1056/nejmoa1402685
🔓
29) In the HALT-A trial (young hypertensive pts), aggressive BP control was safe. This level of BP control, compared with standard BP targets, was assoc'd with a modest⬇️in total kidney volume over time, without differences in the slope of the #eGFR.
🔓
30) Low BP targets afforded significant reductions in left ventricular mass index and proteinuria in HALT-A.
🔓

31) Therefore, HALT-A suggests that in young ADPKD patients with CKD stage 1 to 2 and no other significant comorbidity, if tolerated, strict BP control (SBP 95-110 / DBP 60-75 mm Hg) is safe and may be advantageous.
32) The HALT-B trial showed that monotherapy with an #ACEi was sufficient to achieve BP control in majority of patients with ADPKD and stage 3 CKD. As in HALT-A, the addition of an #ARB to an ACE inhibitor did not confer an additional benefit.
🔓
33) Compared to #RAASi, in small studies & subgroup analyses, Ca channel blockers have been associated with a less favorable impact on #eGFR slope & albuminuria & are therefore not first step antihypertensive drugs in #ADPKD
🔓https://jasn.asnjournals.org/content/13/7/1733.long
34) A post-hoc analysis of the HALT trials and an observational cohort study both suggest that a sodium-limited diet has beneficial effects on the renal consequences of ADPKD, in addition to potential effects on BP.
🔓https://www.kidney-international.org/article/S0085-2538(16)30619-6/fulltext
🔓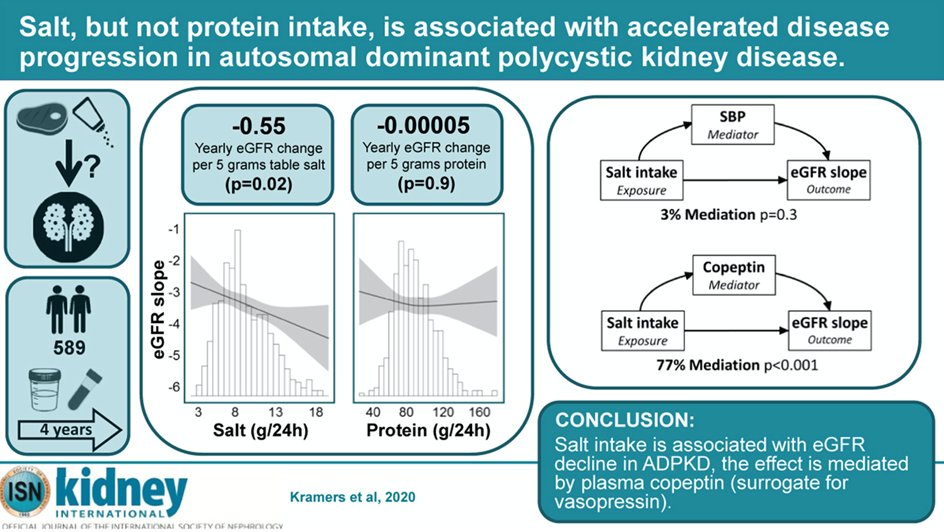 35) Optimized management of hypertension in adults ADPKD is summarized in the following Table. Note that an update on the @goKDIGO guideline for ADPKD is expected soon, and will include the studies published since then.
🔓https://cjasn.asnjournals.org/content/13/11/1765.long
🔓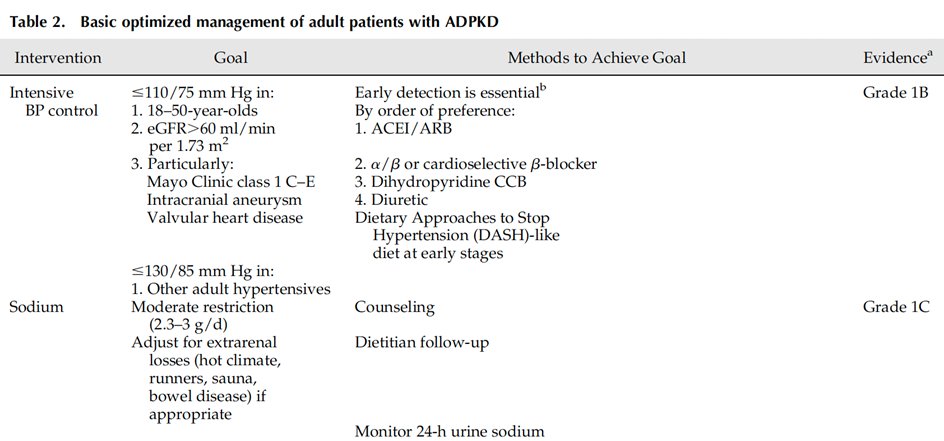 36) In children with #ADPKD an international consensus was published in 2019, and provides an up-to-date guideline for the management of #hypertension.
🔓
37) Cerebral aneurysm rupture in ADPKD is a scary outcome: "when it happens it's devastating", as was identified by the @song_initiative PKD initiative, which defines core outcomes for future trials which are of relevance to both patients & clinicians.
38) Studies in ADPKD report a prevalence of cerebral #aneurysms between 5 and 14%, as compared to around 3% in the general population. This prevalence increases with age (>20% in ADPKD patients aged 60-69).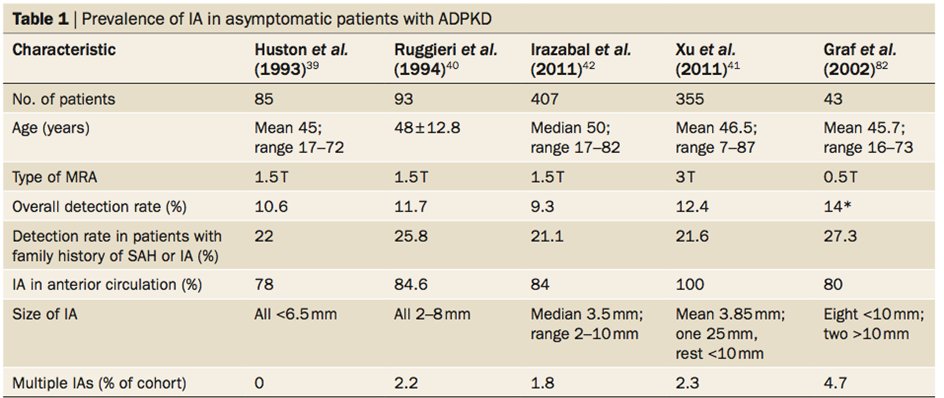 39) The prevalence of cerebral aneurysms increases when there is a family history of cerebral aneurysm or intracranial hemorrhage #ICH (20-28 %). This reflects shared hereditary predispositions in modifier genes.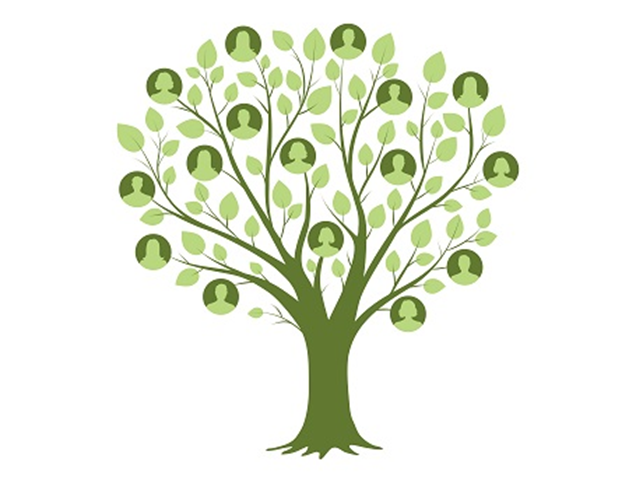 40) Cerebral aneurysms affect both men and women in ADPKD. They are localized in the anterior circulation in > 80% of cases.
🔓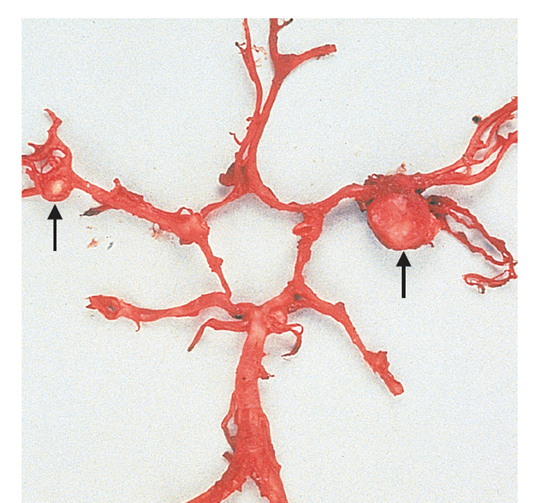 41) The large Genkyst obs cohort revealed prevalence of aneurysms in pts w/PKD1 > PKD2 variations. This could be due to a direct role on arterial remodeling or more probably to indirect implications, in particular via severity of hypertension & CKD.
42) The rate of rupture in patients w/ADPKD is similar to that in the general population. Depends strongly on the size & localization of the aneurysm. A rupture rate of 0.4%/patient-year was reported among #ADPKD patients.
https://link.springer.com/article/10.1007%2Fs00701-017-3142-z
🔓
43) Systematic screening for intracranial aneurysms in ADPKD is debated. Guidelines do not currently recommend it for all patients with ADPKD, but in certain groups at elevated risk.
🔓https://academic.oup.com/ndt/article/29/2/247/1913735
🔓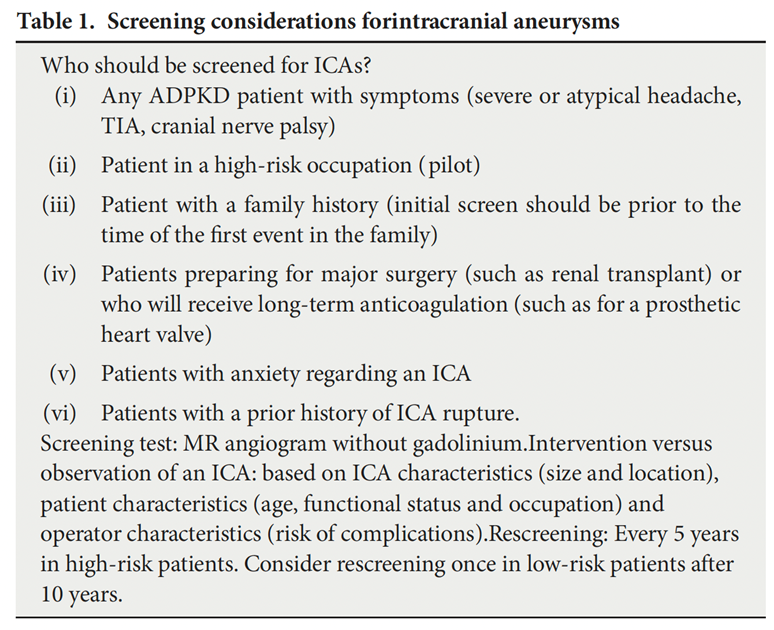 44) If you decided to screen for a cerebral #aneurysm in a patient with #ADPKD, what would you order ?
45) Mark your best answer and return tomorrow for a wrap-up of this program and a link to your FREE CE/#CME! Don't miss it!
Tip o' the hat to @ChristosArgyrop @IgAN_JBarratt @JHernandez_RX @Kidney_Int @ASNKidney @Vishal_D_Patel @NephPrasad @NephroWorldCup @HDiniz_
46) So let's wrap up yesterday's discussion about aneurysms. We left you with a question (see tweet 44) and the correct answer is D.
47) Time-of-flight MRI without gadolinium enhancement is the screening method of choice to identify cerebral aneurysms in ADPKD. 3D-TOF MRI can detect aneurysms above 2 mm. See:
https://www.ejradiology.com/article/S0720-048X(13)00059-4/fulltext
🔓https://www.ahajournals.org/doi/10.1161/STROKEAHA.110.578740
🔓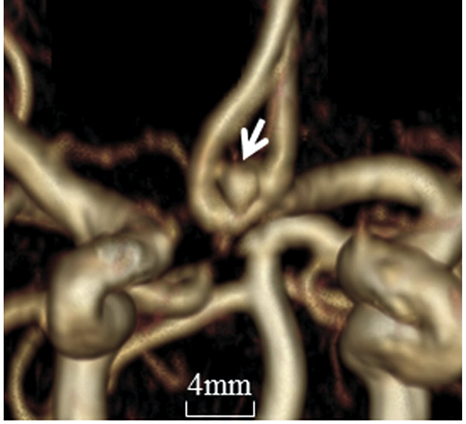 48) Given the high rate of procedural complications, treatment or conservative follow-up of identified aneurysms must be cautious, individualized, and decided in a personalized multidisciplinary setting.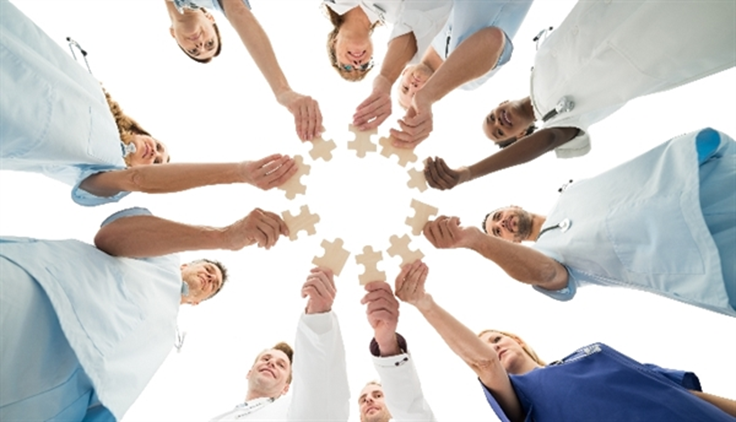 49) Less known, in #ADPKD the prevalence of aneurysms is also increased in extracranial arteries, including in the ascending and descending aorta. See
🔓https://www.oncotarget.com/article/16338/text/
50) Several factors may explain the genesis of arterial aneurysms in #ADPKD, including disrupted signalling in vascular smooth muscle cells and abnormal structural integrity of arteries due to #polycystin deficiency.
🔓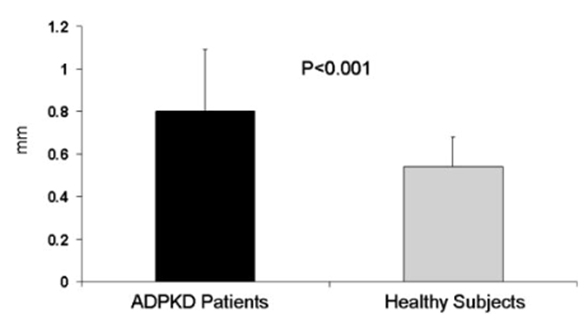 51) Another important issue relevant to ADPKD is the 🫀. Indeed, patients with #ADPKD present an ⬆️prevalence of several #cardiac anomalies.
🔓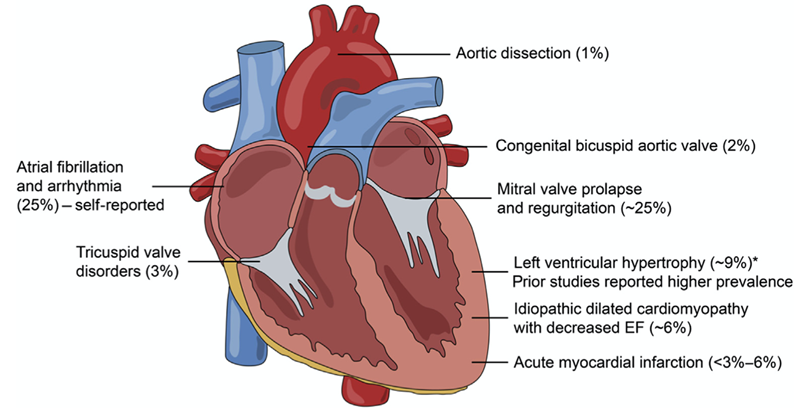 52) Left ventricular hypertrophy #LVH is frequent in historical #ADPKD registries (up to 50% of patients), but improved management has reduced prevalence to < 10% in more recent series.
🔓
53) An analysis of 667 ADPKD patients with #echocardiographic data found that 6% had idiopathic dilated cardiomyopathy with a mean ejection fraction #LVEF of 25%.
🔓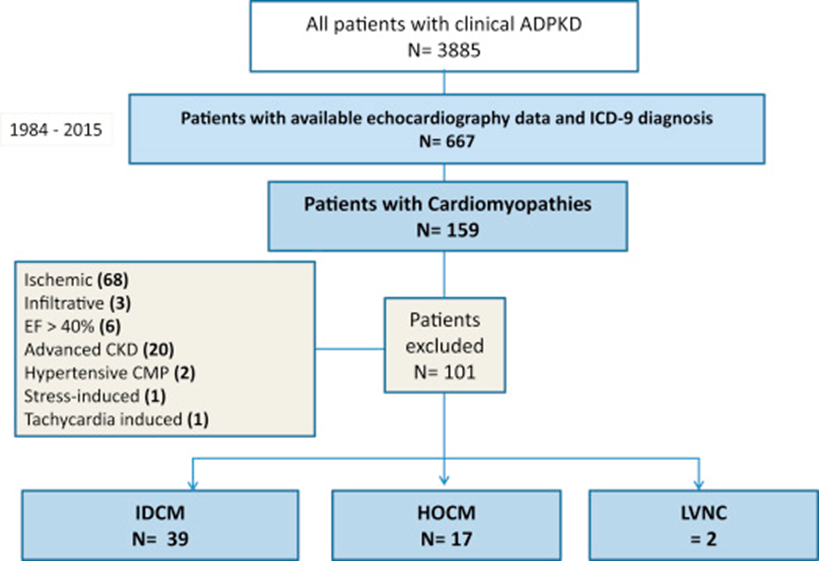 54) This study shows that patients with ADPKD also have an increased prevalence of mild biventricular diastolic dysfunction, even in the absence of hypertension, suggesting cardiac involvement early in the course of ADPKD.
🔓

55) Mild valvular disorders, especially #mitralvalveprolapse (20-30%), are more frequent in ADPKD.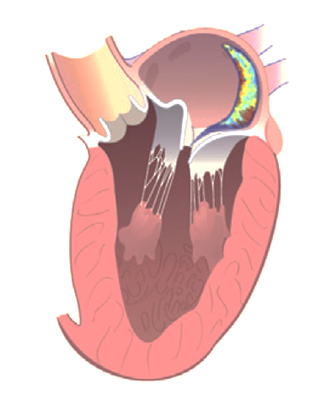 56) #Pericardialeffusion occurs with an increased frequency (20-40 %) in #ADPKD. Generally, these effusions are asymptomatic, clinically inconsequential, & do not require specific management or follow-up.
🔓
57) This Table summarizes the main studies reporting 🫀disorders in patients with #ADPKD
🔓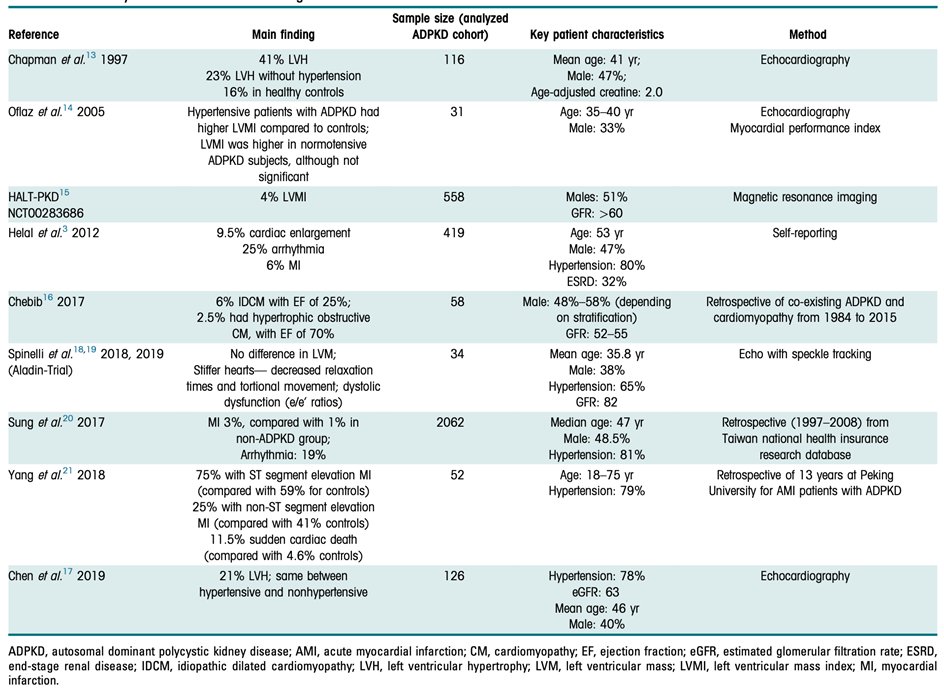 58) Why does this happen? Polycystins are broadly expressed in the heart, in cardiomyocytes, vascular and lymphatic endothelial cells. Potential mechanisms of the cardiac disorders of ADPKD are summarized in this Figure from 🔓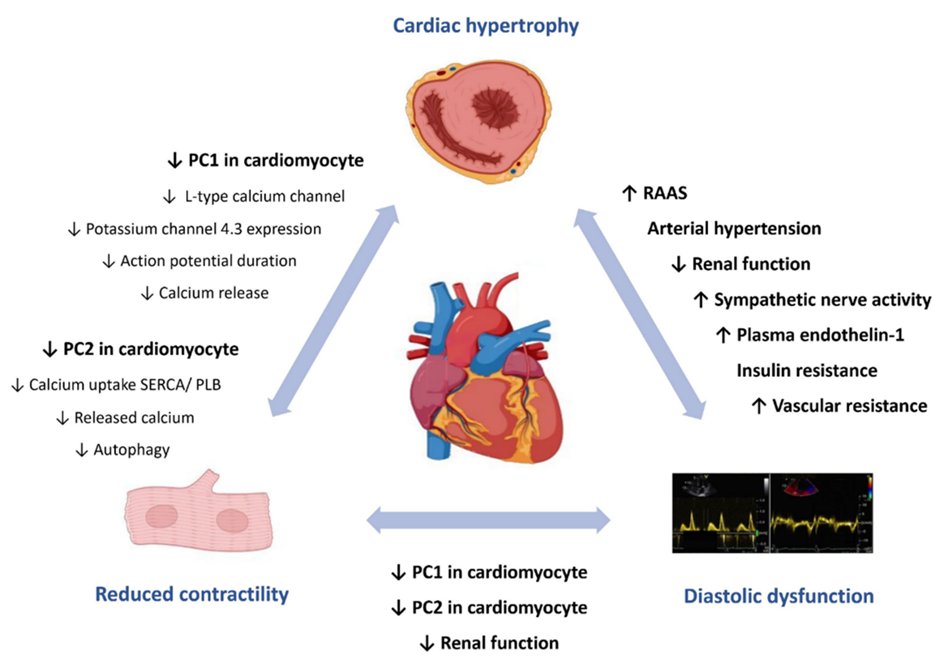 59) As we have seen, therapeutic management aimed at reducing #CVD in ADPKD is mainly based on optimized treatment of hypertension including #RAASi
60) In addition, a post-hoc analysis of TEMPO 3:4 revealed that BP declined slightly in ADPKD patients after several months or years of #tolvaptan treatment, compared to placebo.
61) This favorable effect most probably results from the beneficial effect on kidney disease progression
🔓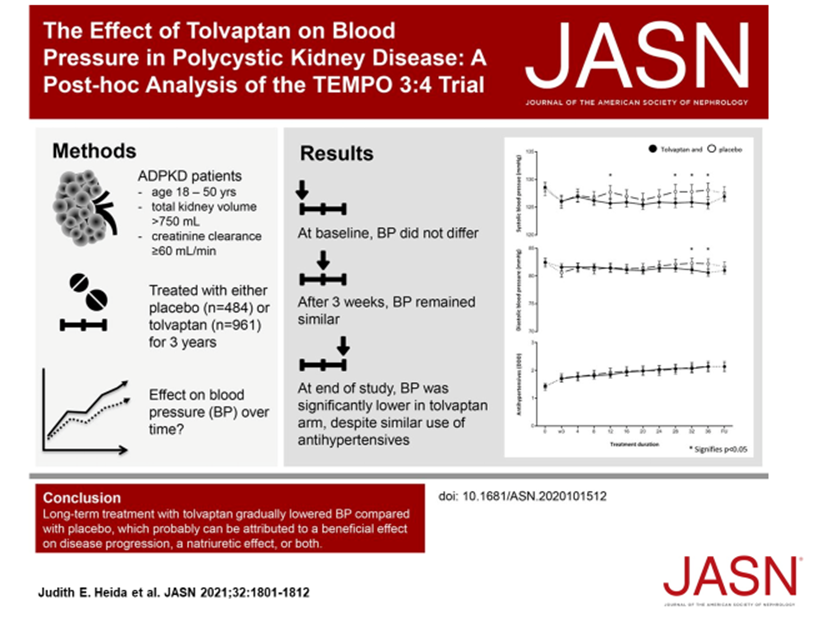 62) To conclude, #cardiovascular disorders are frequent in #ADPKD, & require specific knowledge. We hope this tweetorial will help to improve the mgt of your patients with ADPKD! So go now and claim your 0.75h CE/#CME at http://www.ckd-ce.com/ADPKD1. I am @dguerrot. Thank you!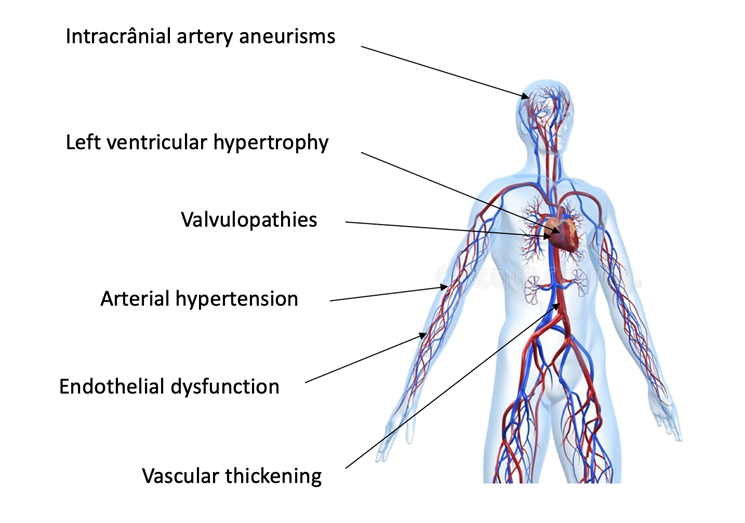 63) Useful links and information for the patients with ADPKD you care for can be found here https://pkdinternational.org here https://pkdcure.org here https://pkdcharity.org.uk or here https://www.polykystose.org ! Nod to @Elektra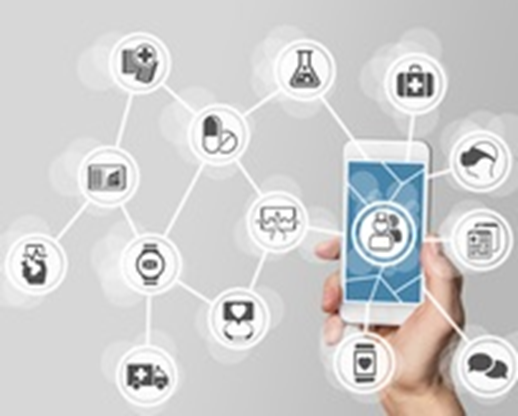 Originally tweeted by @CKD_ce (@ckd_ce) on February 8, 2022.