1) Welcome to our new #accredited #tweetorial on the Pathophysiology of #DKD in #T2D: Traditional Teaching and New Insights. Our expert author is Hans-Joachim Anders, MD, @hjanders_hans from @LMU_Uniklinikum of @LMU_Muenchen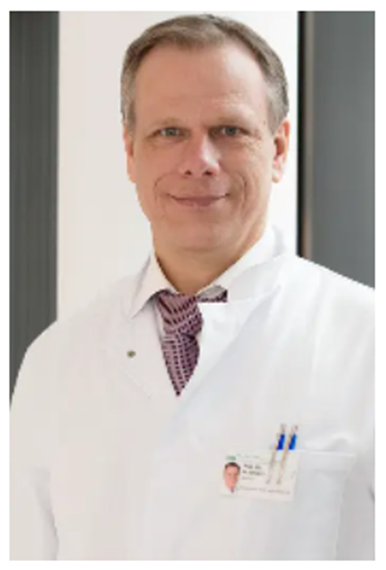 2) This #accredited #tweetorial series on the foundations of #kidneydisease #DKD through the lens of #T2D is supported by an independent educational grant from the Boehringer Ingelheim/Lilly Alliance and is intended for healthcare providers.
3) This activity is accredited for #physicians #physicianassociates #nurses #NPs #pharmacists 🇺🇸🇪🇺🇬🇧🇨🇦. Past programs still eligible for credit are at http://www.ckd-ce.com. Faculty disclosures are at https://ckd-ce.com/disclosures/. FOLLOW US for regular programs by expert faculty!
4a) Let's start with a case. 53♂️ with new onset #T2D 2Y ago is referred for suspected #DKD in light of 3mos' dipstick proteinuria. Meds include metformin/sitagliptin. BP 143/85. BMI 31.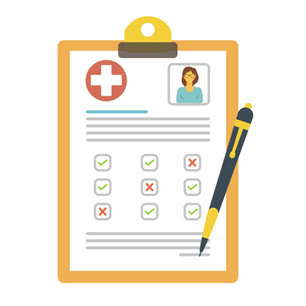 4b) Labs: Na 138, K 4.6, Creat 1.4, A1c 7.1%, no free LC, MG or autoantibodies, #UACR 690mg/g, sediment: 10 RBC/hpf.
Ultrasound imaging: both kidneys 10cm, 1 cyst 3 cm, cortex hyperechoic. Duplex: homogeneous perfusion
5) What is your diagnosis?
A. Definite #DKD because pt has #T2D + #macroproteinuria + #hypertension
B. Suspected #DKD but #kidney biopsy should rule out #GN or #FSGS
C. #CKD. Unlikely #DKD because at that age #CKD is usually multifactorial
6) Maybe we can all agree that the pt has #CKD plus #T2D.
In the past this combo was referred to as #DKD or #diabetic nephropathy/#DN but the 2020 @goKDIGO guidelines 🔓https://kdigo.org/wp-content/uploads/2020/10/KDIGO-2020-Diabetes-in-CKD-GL.pdf avoid the use of these terms because …

7) The global prevalences of both #CKD & #T2D are high & concomitance 🚫 necessarily imply causality when #CKD may be caused by e.g., #genetics, #ischemia, toxins, #autoimmunity or obstruction. In addition, example, obesity can be an upstream cause of both #CKD and of #T2D.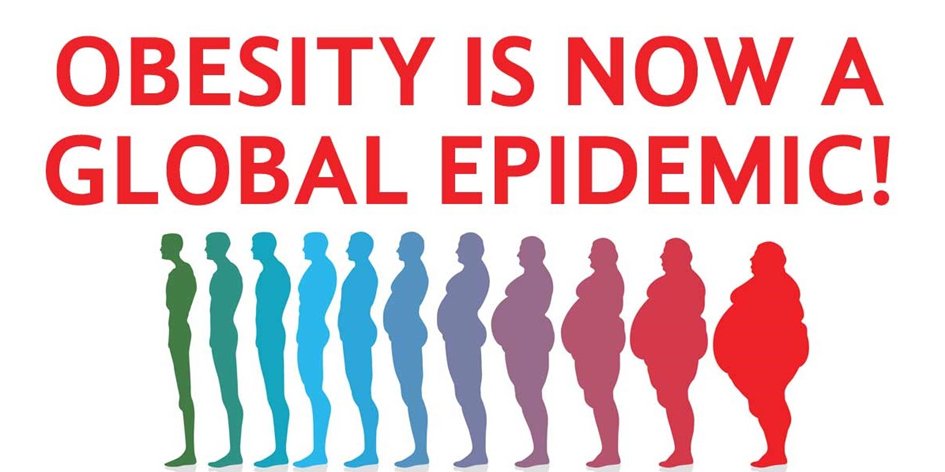 8) Naming any of these "#DKD" would be misleading.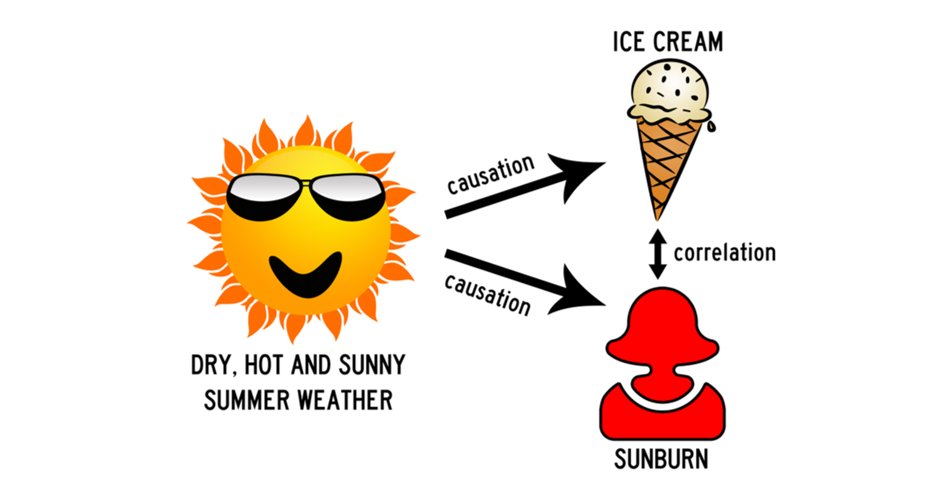 9) Wait: Researchers have spent billions 💲💶💴in research funds to understand #DKD, and companies spent billions 💲💶💴in private investments to develop cures for #DKD and the disease does not even exist?
No, there are still pts with #DKD, e.g.:
10) DKD
👉 longstanding #T1D w/o #insulinpump, poorly-controlled A1c w/o other RF for #CKD
👉 younger non-obese adults with a decade of #T2D and no other RF for #CKD
👉 #kidneybiopsy can rule out many DD and enforce #DKD, although many histo features are unspecific
11a) From a clinical perspective, #CKD +/- #diabetes is preferred also because no #DKD-specific cures exist. All approved drugs target either #DM, #CKD, or both:
11b)
#Antidiabetic drugs: #insulin, #biguanides, #sulfonylureas, inhibitors of #α-glucosidase, #DPP4, #SGLT2, #GLP-1 agonists
#CKD drugs: #ACEi, #ARBs, #SGLT2i, #MRA

12) Now, we better understand (and overcome) the previous hurdles for progress.
Let`s have a look @ the decades of #DKD research concepts about #DKD pathophysiology from the different angles .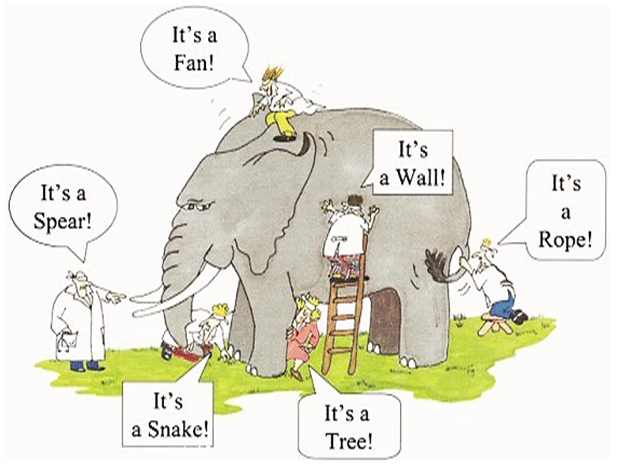 13) The perspective of the #clinician:
👉 focus on albuminuria as a hallmark of #DKD
👉 no appreciation of progressive #CKD in absence of #proteinuria
👉 ignoring that the concept fits almost all forms of #CKD
🔓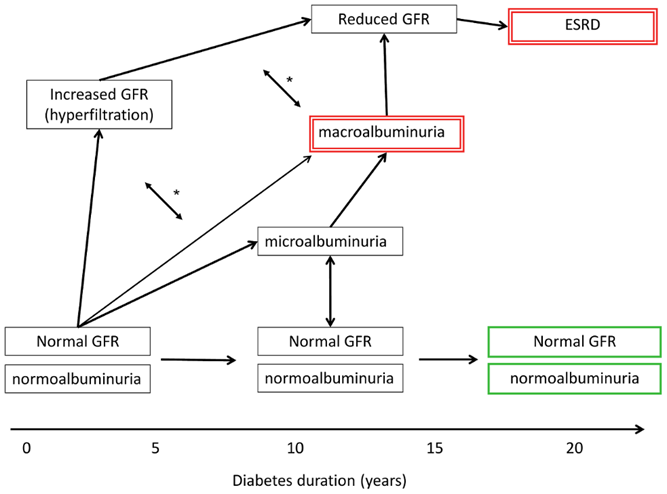 14) Perspective of the #cellculture expert:
👉 #glucocentric view
👉 static models of #kidney cell stress
👉 missing #hemodynamics, #pressures, #metabolism, #shearstress, and adaptive mechanisms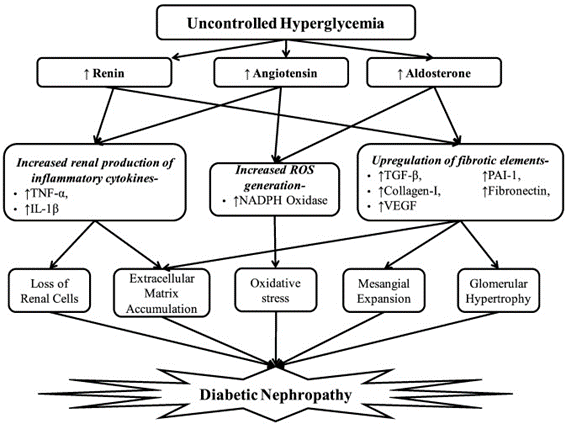 15a) Perspective of the pathologist:
#Tervaert classification (🔓https://jasn.asnjournals.org/content/21/4/556):
👉Lesion pattern-based view but most lesions unspecific
👉Extent of global #glomerulosclerosis mirrors no more than clinical #CKD stage . . .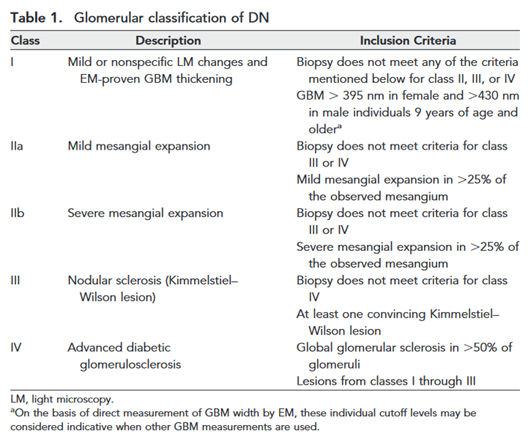 15b) … but, an advantage of the pathologist's perspective:
👍#kidneybiopsy can identify alternative upstream causes of #CKD that may benefit from specific treatments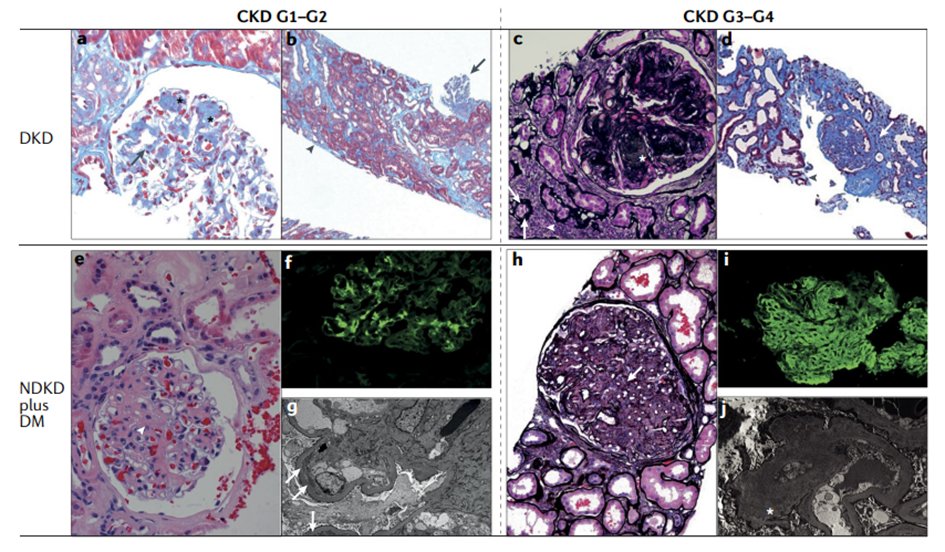 16a) Perspective of #omics systems biologist (🔓https://jasn.asnjournals.org/content/28/4/1050):
👉Kidney transcriptomics: #inflammation & #fibrosis per #path
👉Urinary #proteomics➡️stress responses
👉Hierarchy & directional causality can't be determined
(cont)
16b) 👉Missed #RAAS #SGLT2 & #MRA as key tx targets
🔓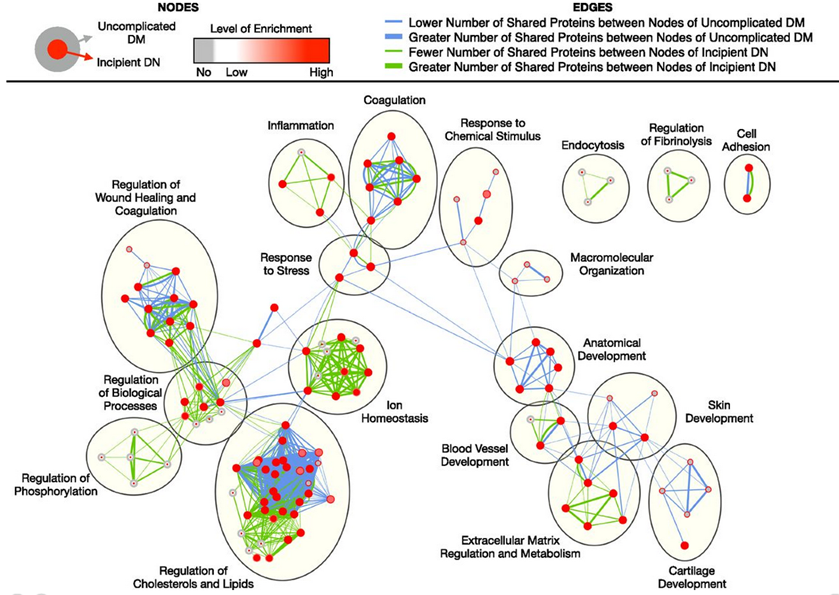 17a) Perspective of the #genetic expert: consider that genome-wide studies comparing #diabetes +/- #DKD or other comparisons revealed genetic #CKD RF unrelated to #diabetes, e.g.,
👉#Alport-like COL4 gene variants (=GBM weakness; see 🔓https://jasn.asnjournals.org/content/30/10/2000) …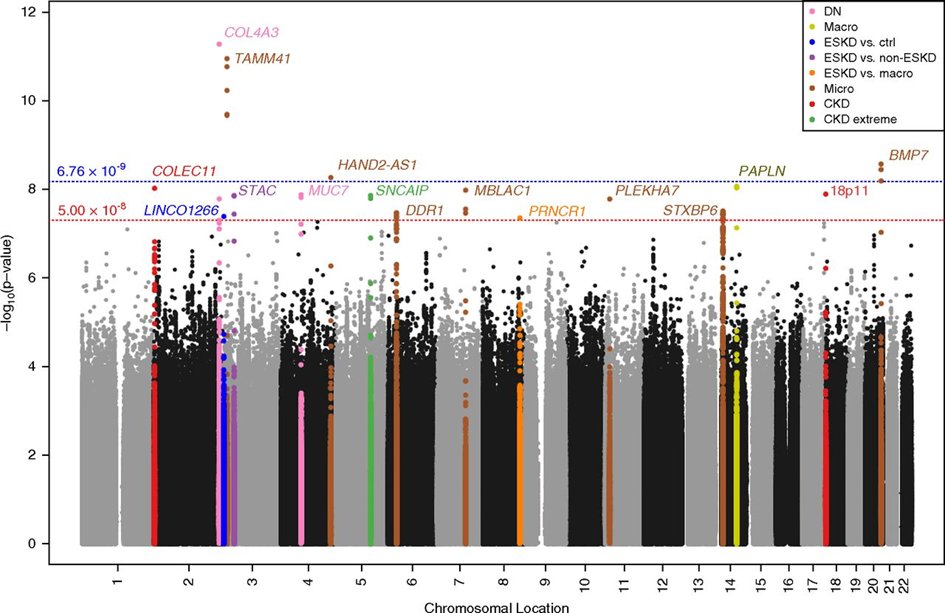 17b) … &
👉APOL-1 gene variants (=podocyte weakness; see 🔓https://www.karger.com/Article/FullText/326763), suggesting that #DM promotes onset & progression of #CKD in #CKD-susceptible individuals, thus #diabetes = a RF for accelerated #CKD progression, esp when #CKD develops shortly after #DM onset
18) Whew! That's a lot of perspectives. Think on these–their relative strengths/weaknesses–and return tomorrow for more education & your link to 🆓CE/#CME! 👏to @kidneydoc101 @RenalFellowNtwk @swissnephro @RealDr_Pepper @KSusztak @SethiRenalPath @drjosflynn @StuartShankland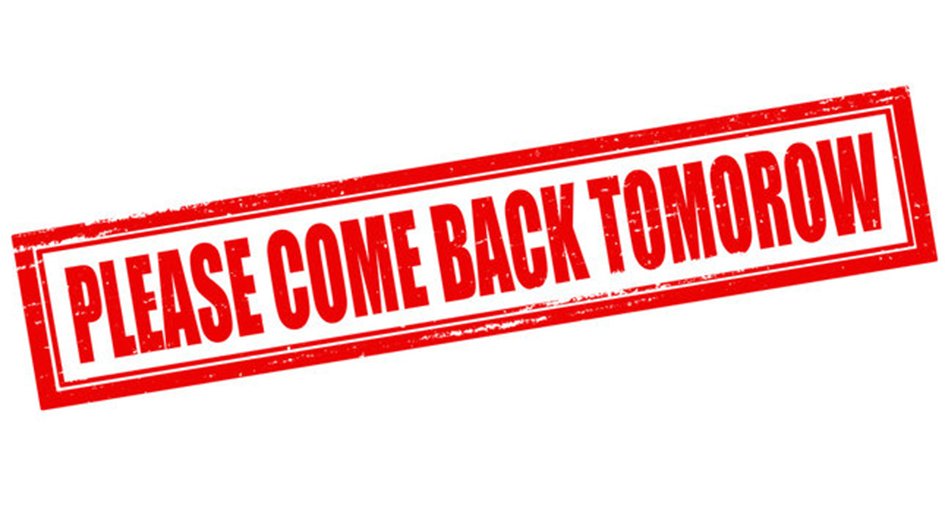 19) Thank you for coming back! You are learning from @hjanders_hans all about #CKD + #T2D while you earn 🆓CE/#CME! Hello to @kdjhaveri @KuppeChristoph @Tiff_Caza @AstridWeins @suz_allison @LinusButt @Renalpathsoc @JeanHouMD @ChristophWanne4 @mvaduganathan @KidneyPath
20) So considering all those perspectives confirms how complicated looking at #CKD through a lens of #T2D can be! The multifactorial origin of #CKD +/- #diabetes in adults: And then there's #aging, during which numerous RF for the onset of #CKD accumulate
21) Thus, with increasing age it becomes less and less likely that the origin of #CKD is a single disease. Thus in adults, targeting the unspecific mechanisms of #CKD progression and minimizing all RF for #CKD progression has become a management priority.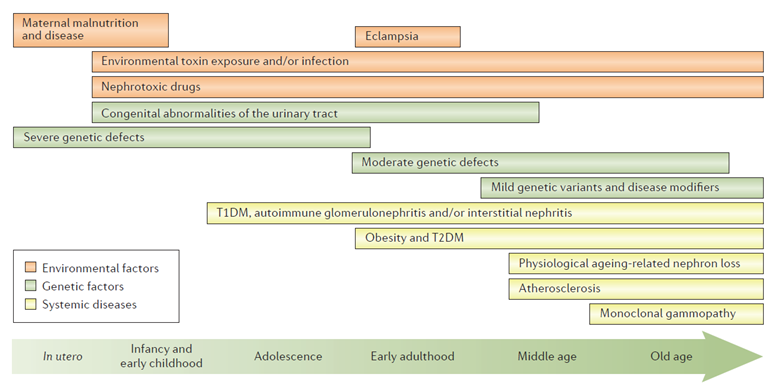 22) Frequently, multiple factors combine that enhance single nephron #hyperfiltration & require structural #adaptation, for which human capacity is quite limited before irreversible injury occurs, e.g., #podocyte detachment from intolerable shear stress.
23a) Learned from recent RCTs with unprecedented large effect sizes:
#Diabetes accelerates onset & progression of #CKD via…
👉forced ↑ #glucose reabsorption in the PT= ↑ metabolic PT stress = #hypoxia & #cytokine signaling & irreversible loss of PT cells
(cont)
23b)
👉increasing hemodynamic shear stress on #podocytes because SGLT2-mediated disabling of the #tubuloglomerularfeedback. Ultimately leads to #podocyte loss = #glomerulosclerosis
🔓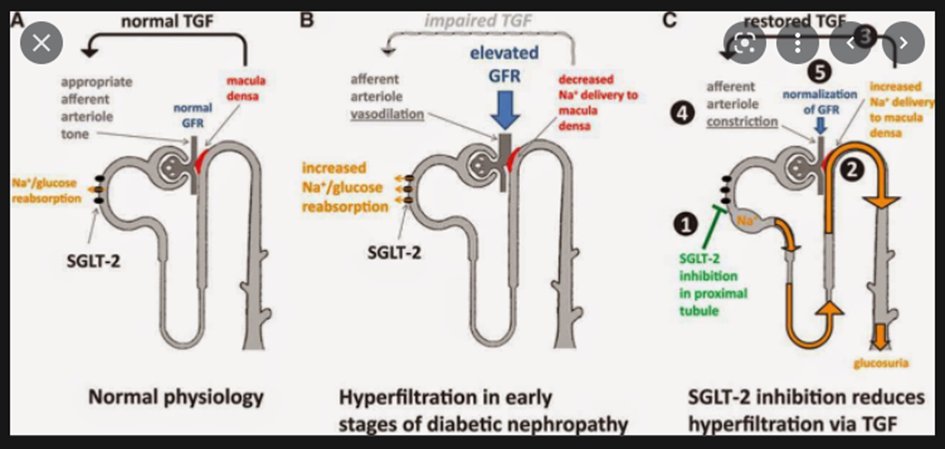 24) An integrated view of mechanisms leading to the structural changes of #CKD that are all accelerated by the presence of persistent hyperglycemia (= #diabetes) is also shown here:
See

25) Loss of #podocytes & PT cells both ↑ workload (hemodynamic & metabolic) to remaining #podocytes & PT cells, respectively, ending in an autoamplification loop of functional overload & progressive epithelial cell loss = #CKD progression = BAD NEWS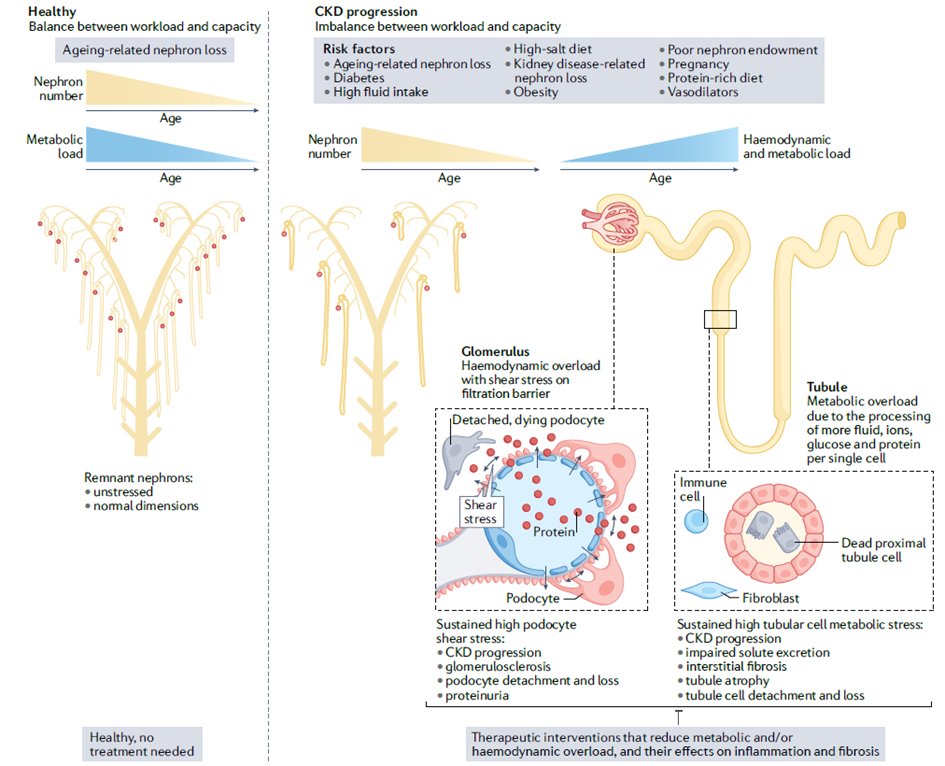 26) These mechanisms apply to all forms of #CKD. #Diabetes is just one of many RF that create a dysbalance between #nephron no./capacity & metabolic demands of the body.

27) This concept is poorly addressable in:
👉Cell culture studies (no hemodynamics, pressures, shear stress)
👉Rodent models (↑↑↑capacity to adapt to nephron overload vs. Humans
28a) What is the evidence for hemodynamic and metabolic nephron overload as key drivers of #CKD +/- #diabetes?
👉Rodents with #diabetes: identical overload but capacity for adaption ↑↑↑ prevents progressive #CKD: Reducing overload is key in humans
(cont)
28b)
👉#Pathology: glomerulomegaly in #diabetes = adaptation to #hyperfiltration
👉#RCTs: dual RAS/SGLT2 inhibition prevents progression of #CKD +/- #diabetes at unprecedented effect size (🔓https://www.nejm.org/doi/full/10.1056/NEJMoa2024816)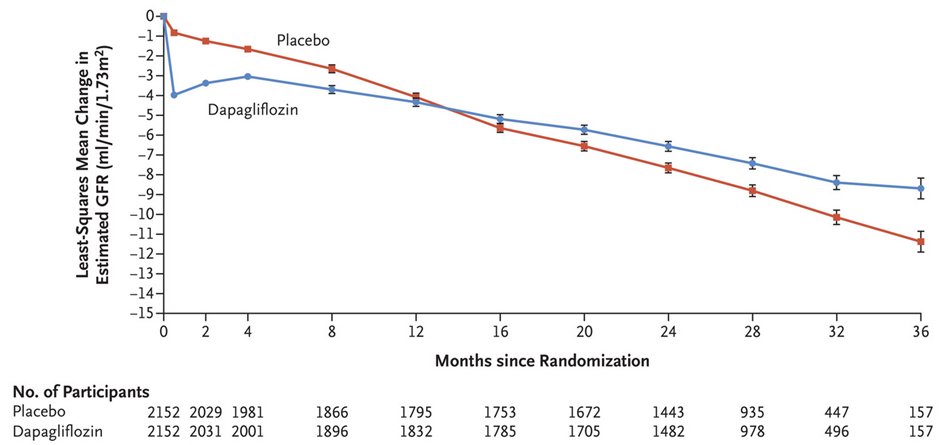 29a) How do #RAASi affect #nephron overload in #CKD +/- #diabetes?
👉The #RAS is a key stress response pathway activated in #diabetes, #kidneydisease and #heartfailure
(cont)
29b)
👉#RAASi open eff. arteriole = filtration pressure ↓ = #podocyte shear stress ↓ = #proteinuria ↓ = metabolic load to PT ↓
👉Better resilience of #podocytes & PT= remnant nephrons last little longer
👉#RAASi block profibrotic effects of #AT2
See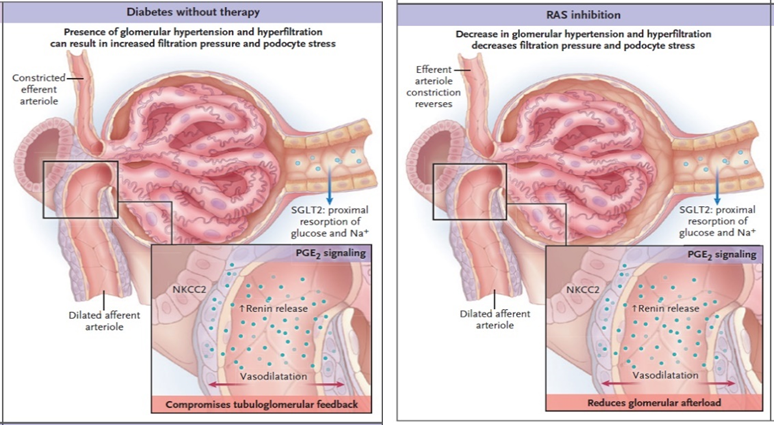 30a) How do #SGLT2i affect #nephron overload in #CKD +/- #diabetes beyond #RAASi?
👉Block Na+/glucose reabsorption in PT = less metabolic PT workload
(cont)
30b)
👉Reactivation of TG feedback = constriction of aff. arteriole = filtration pressure ↓ = #podocyte shear stress ↓ = #proteinuria ↓
👉Better resilience of #podocytes and PT = remnant nephrons last a lot longer
👉Proximal diuretic effect improves #diabetes & #heartfailure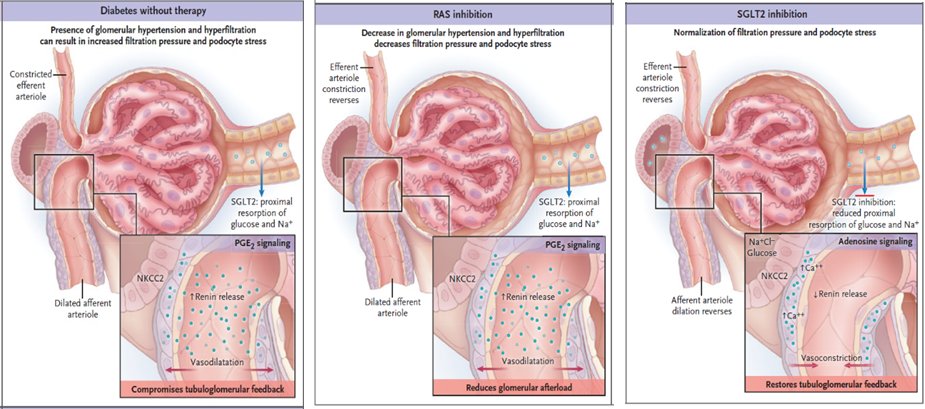 31) More insights from human #RCT about the pathophysiology of #CKD + #diabetes?
👉Mineralocorticoid receptor signaling, another pleiotrophic stress pathway, has non-redundant contributions to #CKD + #diabetes
See 🔓https://pubmed.ncbi.nlm.nih.gov/33264825/
(cont)
32)
👉Endothelin receptor signaling contributes to #CKD + #diabetes
See https://pubmed.ncbi.nlm.nih.gov/30995972/
👉CCL2/CCR2-related #kidney #inflammation is a downstream pathomechanism (low effect size)
See https://pubmed.ncbi.nlm.nih.gov/26268910/ and 🔓
33a) Let me summarize:
👉#DKD as a term should be used only for pts where #diabetes is the only or predominant cause of #CKD, which is rare in older adults w/#T2D.
👉Global epidemic & unmet need = #CKD + #diabetes
– Check @goKDIGO guidelines for tx of #diabetes in this setting
33b)
👉Reduce hemodynamic & metabolic overload of the remaining #nephrons to maximize #kidney lifespan. For this: (a) control all RF for hyperfiltration of the remaining #nephrons & (b) minimize tubular reabsorption of #salt, #glucose, & #protein
33c) Finally,
👉#Inflammation and #fibrosis are downstream pathomechanisms, & whether targeting these beyond dual #RAASi/SGLT2i will have additional effects is possible but currently unknown
34a) And let us conclude with our patient:
In an obese 53 YO w/proteinuria & #CKD after only 2Y of #T2D, #DKD is unlikely. More likely diagnosis: #CKD + #T2D (consider work-up for proteinuria, e.g., COL4 variants/IgAN)
34b) Therapy: Dual #RAASi/SGLT2i, consider triple #CKD therapy by adding #MRA. The #SGLT2i could improve A1c, BMI, BP & reduce the risk of #hyperkalemia
34c) Target-BMI <25, -BP 120/80 w/o dihydropyridine CCB, minimize dietary salt, no smoking, regular physical activity, avoid #NSAID, #PPI or other nephrotoxins. Comprehensive care!
35) And that's it! YOU MADE IT! 0.5h CE/#CME credit. Go claim your certificate at https://ckd-ce.com/dkd9/. I am @hjanders_hans and I invite you to FOLLOW @ckd_ce (and @cardiomet_CE) for more outstanding education and credit for 🇪🇺🇬🇧🇨🇦🇺🇸 clinicians!
Originally tweeted by @CKD_ce (@ckd_ce) on April 27, 2022.